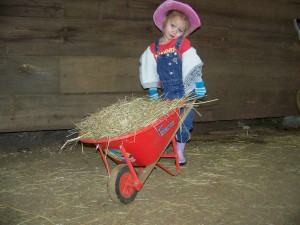 Four Springs Ranch, Inc. is a privately owned horse ranch where we enjoy time with family and friends. Nestled in the hills west of downtown Dallas, Oregon, we enjoy a peaceful lifestyle surrounded by abundant wildlife and natural beauty.
History of Four Springs Ranch
The property dates back over 200 years to a time when it was operated as a sheep farm and a prune plum orchard. Back then, the West Ellendale area was considered far from downtown Dallas and was known for its hunting camps.
The property was purchased by David and JoAnn Oswald in 1980. They named it Four Springs Ranch, for the four identified natural springs on the property. The Oswalds created a private 2 acre lake on the property and operated a U-Catch Trout operation for a time. They also operated several business enterprises including a commercial fishery, training cutting horses, horse boarding, training and lessons. The Oswalds improved the property by rebuilding an existing barn and later adding a large covered horse arena with 36 stalls. Lumber from the original barn are incorporated into the construction of the present arena's tack room.
Mr. and Mrs. Oswald raised a sorrel quarter horse named Chickalenas Joker. Much of their business over the years at Four Springs Ranch evolved around "Joker." He was used for cutting competitions by Mr. Oswald and for reining competitions by Mrs. Oswald. He was bred with mares owned by the Oswalds, as well as outside mares, and he produced AQHA world championship competitors.
Four Springs Ranch is well known in the Dallas area partly because so many people first learned to ride horses here. Many 4-H and OHSET kids honed their horsemanship skills under the guidance of JoAnn Oswald. Mrs. Oswald taught horsemanship skills to children for over 35 years and was leader of the 4-H group "Pony Expressions" for 23 years.
At one time Buck Tharp, a local area cowboy and custom saddle maker worked out of the tack room at Four Springs Ranch. Mr. Oswald learned leatherwork and saddle making from Mr. Tharp and later built an 1800 square foot workshop where he opened a custom saddle and horse tack business under the name Four Springs Saddle and Tack. David and JoAnn Oswald retired after nearly 30 years in Dallas at Four Springs Ranch. Polk County Itemizer-Observer reported the Oswald's retirement in their February 4, 2009 issue.
Four Springs Ranch was purchased by Loni Barrett in 2013 and sold to the present owners in December of 2020. Well aware of the history, the ranch name has been retained and care has been taken to preserve and honor the past here on this beautiful property.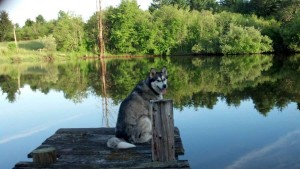 The property has plenty of water with four natural springs (thus the name Four Springs Ranch), a 2 acre private lake, a koi pond and 2 smaller pasture ponds. Lauterman Creek flows through the property on two sides.
We have converted the old tack shop to a clubhouse where we host parties and have a variety of arcade and table games. We continue to make the riding arena available for OHSET kids but the ranch is now private with no horse boarding available. We enjoy having family and friends visit to share quality horse time at the ranch.